Dr. Amelia Joy Cole - Head Veterinarian
Dr. "Joy" Cole joined our staff in February 2012 from PetCentre Animal Hospital in Manassas, Virginia. She grew up in the Knoxville/Oak Ridge area of Tennessee and received her Doctorate degree in Veterinary Medicine from the University of Tennessee. Following the completion of her doctorate at the age of 24, she was a National Institute of Health Post Doctoral Research Fellow at the University of Tennessee Memorial Research Center in Knoxville where she focused on immunology. Dr. Cole's special practice interests are surgery (including but not limited to orthopedic fracture repair, plastic and reconstructive soft tissue, gastropexy, nephrectomy, colonic resection and amputation), cancer management and immunology.
Dr. Cole's love of animals extends deep into her home life where she cares for horses, goats, chickens as well as her dogs and cats. She and her husband operate The Hound Hotel at Hidden Hill Farm which offers dog, cat, horse and small pet boarding, with an emphasis on catering to special needs pets. Dr. Cole is an active member of the Welsh Pony and Cob Society of America and the Virginia Welsh Pony and Cob Association. Along with showing her half welsh and section d cob pony, Dr. Cole enjoys trailing riding with her husband George and touring museums and historic sites in the National Capitol Region.
Dr. Cole brings Marshall Veterinary Clinic a wealth of knowledge from over 20 years of veterinary experience, and the warmth of a doctor who truly loves animals and honors the extraordinary privilege of the human-animal bond. She looks forward to meeting you and serving you and your pet's healthcare needs for many years to come!
---

Dr. Kollgaard
& "Calico"

Dr. Katrina Kollgaard
Dr. Kollgaard joined the Marshall Veterinary Clinic in April of 2012 on a part-time basis working on her days off from her full-time position at Locust Grove Veterinary Clinic. To better serve our clients and their pets, Dr. Kollgaard began working full time at Marshall Veterinary Clinic in November of 2012.
Dr. Kollgaard is originally from West Oneonta, New York. She graduated summa cum laude from the College of Agriculture and Life Sciences at Cornell University in 2007 with a Bachelor of Science degree in Animal Science and then graduated with distinction from the Cornell College of Veterinary Medicine in 2011. Dr. Kollgaard's special practice interests are feline medicine and soft tissue surgery.
Dr. Kollgaard lives in Fredericksburg with her husband Jason and their three cats Pandora, Freyja, and Apollo, a growing 'cluster' of hermit crabs, and has just added a bright orange baby bearded dragon named Balrog to her family! She enjoys hiking, swimming and reading in her spare time. Dr. Kollgaard's favorite part about working at Marshall Veterinary Clinic is "the wonderful staff". Dr. Kollgaard looks forward to meeting all of our existing and new clients and helping their pets experience a life time of happiness and good health!
---
---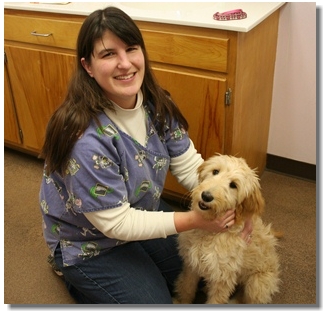 Vet Tech Kathy Tumblin &
"Princess Phoebe"
Vet Technician Kathy Tumblin